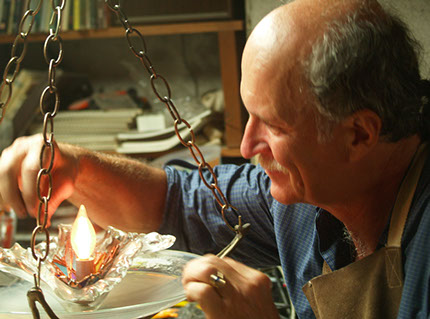 A Ner Tamid is the "eternal light'' which usually
hangs above the front of the Ark which
contains the Torah.
The Torah is traditionally held in the Aron Kodesh,
the ark, in front of the sanctuary.
The Ner Tamid evokes the presence
of the light of God.
My pieces combine traditional forms with evocative blown and stained glass.
I seek a radiant purity of light which inspires and calms the spirit
of the congregant. The use of a soft, translucent pallet of clear and colored
glass allows worshippers to focus on their prayer. On closer inspection
there are hidden jewels of meaning within each piece.
While most installations are electrically lit I prefer the use of a gas flame when possible. Each piece is unique, finely crafted, entirely hand crafted and designed to fit your architectural setting.
I enjoy the collaborative process, both for what it symbolizes and for the inspiration it provides. I look forward to working with your synagogue.
– Claude Riedel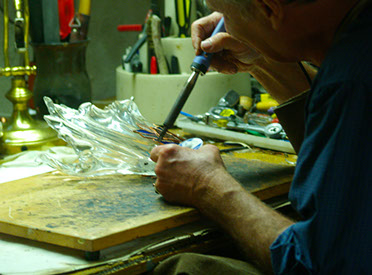 In addition to his commissioned works, Claude Riedel has Ner Tamid's available for immediate purchase.
To view these Eternal Lights, click this link: Available Ner Tamids.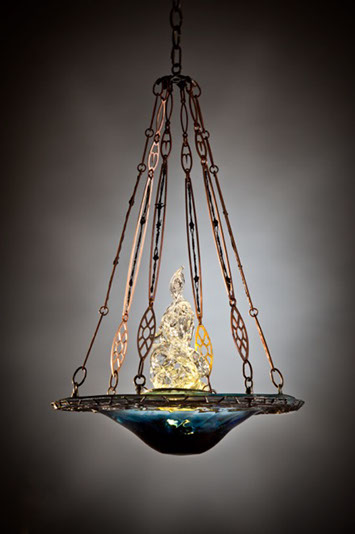 Holocaust Eternal Light
Claude has created a very special Ner Tamid on behalf of Ruth and Walter Elias.
They asked Claude to integrate barbed wire from the Hasaq concentration camp in Poland, where Ruth's parents and relatives were slave laborers, in an eternal light.
Their personal story of visiting Hasaq can be found on their blog:
Now, the doors are opening and the time is right to find a home for the Holocaust Eternal Light.
Click on the picture at left for zoomed in views of this Ner Tamid.
If you want more information please contact Ruth or Walter Elias at wselias@msn.com
Contact Walter Elias at the email address above for the specific terms of the purchase price.
To read articles about the Holocaust Ner Tamid, click these links:
Claude Riedel Light Eternal
5133 Bryant Avenue South Minneapolis, Minnesota 55419
Phone: 1.612.805.2533 Email: Claude Riedel
ClaudeRiedelArt.com • All Rights Reserved