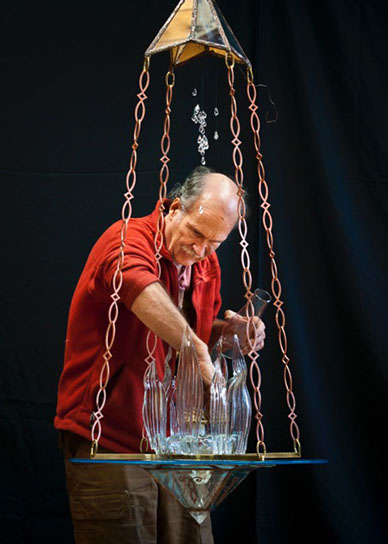 Claude Riedel has been creating stained glass windows and sculpture for more than 30 years. His first Ner Tamid was crafted for his own congregation, Bet Shalom.
The artistic journey is personal for Claude. His grandfather was taken to Buchenwald on Kristalinacht (the night of broken glass) in Germany in 1938.
"I am inspired to put the shards of glass back together in new and meaningful ways. My energy is to take bits and pieces of myself – of the personal as well as the artistic parts – and make them into something more whole and holy."
Claude has installed more than 80 of his works across the United States and worldwide in Israel, England, Canada, Brazil and Australia.
To view/download a pdf of the installations list, please click the link below:
Hello, Claude,
As you recall, you produced a beautiful Ner Tamid for us. During Friday night's Simchat Torah services, we dedicated two Torah scrolls and the Ner Tamid, the wonderful piece you created, the historical meaning, and why it was important for our family and our community. It was really a special evening ~ so many people admired your work, and the Rabbi even requested we turn off the other lights in the room, so the true beauty of the soft light could be fully appreciated – it was a very moving experience!
Best wishes,
Cheryl Rotatori
La experiencia que tuve desde que platique con Claude fue muy motivante. El me ayudo a disenar este precioso ner tamid lo cual le dio un toque especial a nuestra sinagoga asi como al ser querido que he hecho en memoria de. Disfrutamos el momento de la instalacion hasta el encendido
Vale la pena invertir en un ner tamid, queda la memoria para suempre
Un abrazo
David Attias Skylake Synagogue, N. Miami
You have made for us the most perfect place for the Shekinnah to dwell. Having seen the powerful presence that you can create in larger commissions, I realize, now, that you are an even better artist for capturing that sense of hopeful constancy in any work you undertake. Our Ner Tamid will warm the walls of Nevei Kodesh, the souls of our members and, especially, the heart of the grandfather who commissioned this piece in honor of his grandson's coming to the Torah this coming Spring.
Creating our Ner Tamid
I've recently had the opportunity to spend time in the studio of Claude Riedel whom Shir Tikvah has commissioned to create our Ner Tamid. I've been impressed by how he weaves back and forth between the function, the scriptural images and the visual aspects of the piece.
He has aimed to create a Ner Tamid that seems both ancient and modern.
The Sanctuary Design Committee met recently with Claude to look at his design. The glass is in three layers – one nesting inside the other surrounding the eternal light with layers of translucent energy. The glass rests in a copper base shaped like three pomegranate leaves – an image often seen in Jewish art. The design for hanging the Ner Tamid, which extends on a curving rod of textured copper, evokes the passages of the Eternal Light being handed forth from God.
During a lively discussion about scale, Claude reminded us that ceremonial art should ideally inspire and not detract from prayer. Our Ner Tamid should be beautiful but not overtake our attention. The installation and dedication of the Ner Tamid will take place at services on December 11.
Amy Lange
Shir Tikvah Congregational Newsletter
A world famous designer recently wrote:
"Your Ner Tamids are superb! Seldom have
synagogues in the United States had such beauty.''
Dear Claude,
I wish you could hear all the wonderful comments on the Ner Tamid. It gives an aura of spirituality that emanates, and our congregation loves it.
I am so impressed by the way you worked on our project. Your artistry is beautiful and synthesized meaning through the design. Thank you so much!
We are blessed to have had you contribute to our
sanctuary.
Sincerely,
Nancy Rose Stanley
Congregation Anshai Torah
Dallas, Texas
ClaudeRiedelArt.com • All Rights Reserved